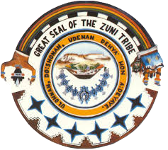 COVID-19 Information
updated September 14, 2020



Important Notice from the COVID-19 Information Center
If you should have any questions regarding curfew order, partial closure or other mitigation activities that have been implemented to date, please DO NOT call Zuni Police Dispatch; instead, please call the COVID-19 Information Center at
(505)782-2466
(303) 917-3181
(720) 576-4014

Days/Hours of Operation: Open 7 days per week, Sunday-Saturday from 8am -5pm.
Thank you for your cooperation.
---
POZ Administrative Offices are closed until Tuesday October 13, 2020.
This closure is to ensure the safety of our employees and families.
Check our POZ Facebook page, POZ Website and tune into KSHI Radio for the latest updates.
For more information, please feel free to call (505) 782-7000
---
Daily COVID-19 (Coronavirus) Public Notice Update to the Zuni Community (9-8-2020)
57 Hour Weekend Curfew (8-3-2020)
Resolution M70-2020-P058. Amended and Supplemental COVID-19 (Coronavirus) Emergency Declaration (8-6-2020)
Online Purchasing now Available for New Mexico SNAP households
Need Help Or Someone To Talk To?
Zuni COVID-19 Public Notice (4-10-2020)
Mental Health Awareness during COVID-19
---