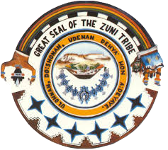 COVID-19 Information
updated 3-30-2020
POZ Administrative Offices are closed March 23 - April 6, 2020.
This closure is to ensure the safety of our employees and families.
Stay tuned to the POZ Facebook page, POZ Website and KSHI Radio for the latest updates.
For more information, please feel free to call 505.782.7000
Zuni Indian Health Service COVID-19 Hotline Information
---
Public Notice to the Zuni Community (3/29/2020)
Governor Panteah PSA
Governer Panteah Update March 19,2020
Public Notice from the Governor's Office
COVID-19 (Coronavirus)Emergency Declaration
Information from POZ Programs
UPDATE 3/27/2020 -- Zuni Tribal Courts
Zuni Finance Office
POZ Division of Health and Human Services
Zuni Social Services
Zuni WIC Program
Zuni Utilities Public Notice
Zuni Headstart Closure
A:shiwi Transit Notice
A:shiwi Transit Gallup Schedule (Effective March 13, 2020)
Zuni Public Library
A:shiwi A:wan Museum and Heritage Center
Zuni Education and Career Development Center
ZECDC office is closed. College students can submit CRT timesheets via photo or scan to zecdc@ashiwi.org
Scholarship applications can be emailed to zecdc@ashiwi.org or faxed (505)782-6010
If you are new and in URGENT need of services (i.e. childcare, cash assistance) please email zecdc@ashiwi.org. Alternative forms of interviews can be accommodated.

Zuni Wellness Center>
In lieu of the COVID-19 and the affects it has placed on public facilities in the Local, Regional and National levels of engagement. Please be advised, the Zuni Wellness Center will close on Monday 3/16/2020 to Friday 3/20/2020. The Staff will be going thru major cleaning and sanitation efforts. All scheduled activities are cancelled for the week. Any resolve to the COVID-19 situation that may allow the Wellness Center to open on a limited basis will be forthcoming.
The Wellness Center facilities will remain closed in adherence to Governor Panteah's Public Notice. We thank everyone for your continued understanding and support.
A:Shiwi College & Career Readiness Center
We have postponed our ZETAC Spring Institute on March 18-19, 2020 until further notice. If you have any questions call our office at 505-782-6010.
Zuni Healthy Lifestyles Programs
To adhere to the Zuni Tribal Council Public Notice, the Zuni WIC/Healthy Lifestyles Programs will suspend all events including group gatherings, sessions, and activities that bring hundreds of people together. Effective immediately the 2020 Slam Dunk Diabetes Co-Ed basketball games and the March "Your Life's Direction" monthly event are suspended until further notice.
Participants that registered for these events will remain active in our system to receive incentives when the restrictions are lifted. We appreciate your understanding and cooperation during this challenging time. We as people must hold to our beliefs and pray that all are protected from all illnesses. Thank you.
Zuni Recovery Center
In accordance with Governor Val Panteah and the Zuni Tribal Council Public Notice the Zuni Recovery Center will be suspending all group therapy sessions at the Zuni Recovery Center until further notice. Individual therapy sessions with ZRC clientele however will continue as scheduled. Thank you and be safe.
Zuni Veterans Services
The Veterans Resource Fair on March 20, 2020 has been postponed until further notice. If you should have any questions, feel free to contact our office. Thank you for your understanding.