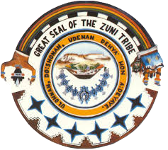 COVID-19 Information
updated November 30, 2020



Important Notice from the COVID-19 Information Center
If you should have any questions regarding curfew order, partial closure or other mitigation activities that have been implemented to date, please DO NOT call Zuni Police Dispatch; instead, please call the COVID-19 Information Center at
(505) 782-7114
(505) 782-2466
(303) 917-3181
(720) 576-4014

Days/Hours of Operation: Open 7 days per week, Sunday-Saturday from 8am -5pm.
Thank you for your cooperation.
---
Pueblo of Zuni Administrative Offices are open with limited staff. Please call (505) 782-7000 for assistance.

This closure is to ensure the safety of our employees and families.
Check our POZ Facebook page, POZ Website and tune into KSHI Radio for the latest updates.
For more information, please feel free to call (505) 782-7000
---
Update from Dr. Faber, Zuni IHS 11-24-20

Daily COVID-19 (Coronavirus) Public Notice Update to the Zuni Community (11-29-2020)

Compliments of the Pueblo of Sandia GIS Team

---
Zuni Community Announcements Regarding COVID-19
From the POZ Governor's Office 11-16-2020
Resolution M70-2020-P078. Amended COVID-19 (Coronavirus) Emergency Declaration 11-16-2020
Updated Zuni Community Curfew and Extended Curfew 11-16-2020
Entering The Zuni Community December 4-11, 2020
POZ Emergency Management Safety Alert
Online Purchasing now Available for New Mexico SNAP households
Need Help Or Someone To Talk To?
Mental Health Awareness during COVID-19
---
Governor Panteah PSA
COVID-19 (Coronavirus)Emergency Declaration March 19, 2020
Information from POZ Programs
Zuni Tribal Courts - Updated 10-13-20
Zuni WIC Program
Zuni Utilities Public Notice
A:shiwi A:wan Museum and Heritage Center
Finance Office
Tribal Cashier hours (Telephone Payments). (505) 782-7146
8:00 a.m. – 4:00 p.m. Monday – Friday (Closed for Lunch 12 pm – 1 pm)
If phone is busy, keep trying and be patient, there is only one credit card machine available.
Water payments (Money Orders (window drop off) and Credit Card phone payments only – Do Not Drop Off Cash at the window)
PLEASE DO NOT WAIT AROUND FOR RECEIPTS. YOUR RECEIPT WILL BE MAILED TO YOU.
PLEASE PRACTICE AND ADHERE TO SIX (6) FEET SOCIAL DISTANCING AND WEAR GLOVES/MASKS.

Zuni Education and Career Development Center
ZECDC office is closed. College students can submit CRT timesheets via photo or scan to zecdc@ashiwi.org
Scholarship applications can be emailed to zecdc@ashiwi.org or faxed (505)782-6010
If you are new and in URGENT need of services (i.e. childcare, cash assistance) please email zecdc@ashiwi.org. Alternative forms of interviews can be accommodated.

Zuni Wellness Center>
Visit the Zuni Wellness Center Website for updated hours.
Zuni Recovery Center
In accordance with Governor Val Panteah and the Zuni Tribal Council Public Notice the Zuni Recovery Center will be suspending all group therapy sessions at the Zuni Recovery Center until further notice. Individual therapy sessions with ZRC clientele however will continue as scheduled. Thank you and be safe.