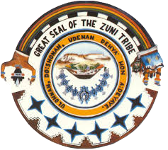 PUBLIC NOTICE
COVID-19 EMERGENCY FINANCIAL SUPPORT ASSISTANCE PROGRAM
---
To apply, choose below:
Online Application
Download PDF Application

---
Purpose of Program:
The COVID-19 Emergency Financial Support Assistance Program is designed to provide one-time non-taxable economic relief to Zuni Tribal enrolled members with additional resources to maintain adequate housing, transportation, food, water, medication, medical care, utilities, and basic life necessities to help alleviate the financial hardships endured from loss of income and increased costs due to the COVID-19 pandemic. Funding for the Program is being distributed from the CARES Act funding received by the Zuni Tribe. This Emergency Financial Support Assistance program is designed to comply with the CARES Act requirements and guidance issued by the US Department of Treasury.

Each eligible enrolled Zuni tribal member can receive a maximum amount of $1,000 per person. Economic Relief Payments will be based on amount requested on the application by applicant, not to exceed maximum amount.
Eligibility:
•Zuni Enrolled Tribal Member (residing on or off the reservation) who has reached the age of 18 years or older as of April 1, 2020 and who were also enrolled with the Zuni Tribe as of April 1, 2020; and
•Has experienced a financial hardship due to the COVID-19 pandemic.

Documents:
Each applicant will be required to submit supporting documentation with their application to substantiate its validity.
•State Issued Driver's License or ID (Tribal Census Picture ID is acceptable)
•Tribal Census Card/Tribal Enrollment Letter

Last day to submit completed application:
November 1, 2020
For the health and safety of all, the ZECDC program prefers no contact submission and has three (3) options to submit your application:
•OPTION 1: Complete PDF Fillable application and email with supporting documents to: Covid.Assistance@ashiwi.org
-Download application at www.ashiwi.org (
Click Here to Download Application
) or;
-E-Mail Covid.Assistance@ashiwi.org to request for an application
•OPTION 2:
Using your mobile phone, tablet, laptop or desktop computer click here to complete and submit the application and upload documents.
(Must have a valid email address to receive confirmation that your online application has been submitted) or;
•OPTION 3: Contact the POZ COVID-19 Information Center Monday – Friday from 8:00am – 4:00pm at (505)782-2466 or (720)660-7786 for assistance with completing the application over the phone. If you choose this option, you will be required to submit your supporting documents to COVID-19 Information Center staff located next to Zuni Dispatch in Blackrock and sign application via curbside. (Please wear your facemask) Upon arrival, staff will have you sign your application and take a picture of your supporting documents.
ZECDC staff will contact you to verify your information if you apply via Option 1 or Option 2.
Please ensure you provide a valid phone number
.
Economic Relief Payments will be sent via check within three (3) weeks or sooner to the mailing address provided on your application. We appreciate your patience. If you should have any questions, please send your inquiry to Covid.Assistance@ashiwi.org or contact the POZ COVID-19 Information Center at (505) 782-2466 or (720) 660-7786.
Supported by Zuni Tribal Council Resolution # M70-2020-P051 - Approved on July 14, 2020

Administration of Program: The Zuni Education & Career Development Center (ZECDC) shall be authorized to administer the Program.